This pandemic continues to change rapidly, so always consult your healthcare team for the most up-to-date information and advice.
---
Special Webinar: Update on COVID-19
Recorded January 19, 2022
In this special webinar, a panel of professionals addressed the latest questions on COVID-19, including:
Vaccines and booster shots
Effectiveness as it relates to DMTs
Navigating your personal wellbeing with family, friends, and the public
Get the facts and learn strategies for staying safe and healthy.
Speakers:
Kathleen Costello, CRNP, MSCN
Rosalind Kalb, PhD
Nancy Sicotte, MD
Resources:
---
Joint Webinar Presented by NeurologyLive, the Consortium of MS Centers, and Can Do MS
Recorded August 2021
Watch the webinar recording linked below to hear from experts in immunology, virology, and neurology. These professionals discuss infections and MS, the persistence of the SARS-CoV-2 virus, the impact of viral variants, the current vaccine landscape, and DMT guidance.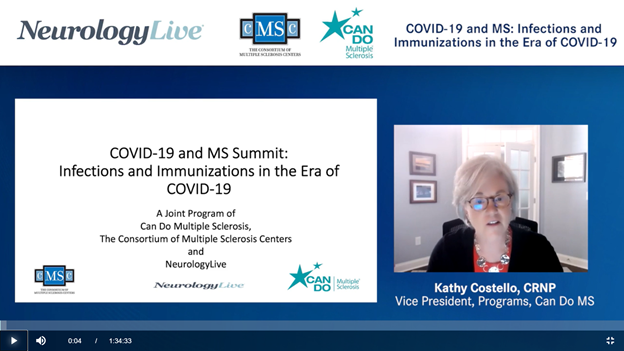 ---
National MS Society FAQs & Guidance: Additional COVID-19 Vaccine Dose (Booster) and MS
---
Resources & FAQs

Ask the Can Do Team
What are the potential effects of COVID-19 on people 65+?
How long should I wait to get the COVID-19 booster or third dose if I am not on any disease-modifying medications?
Can a COVID booster/third dose be taken while on Baclofen?
How much time should lapse between a COVID booster/third dose and starting Ocrevus?
Could left-sided numbness be associated with my active COVID-19 infection? Or could I be having an MS relapse?
Is a cloth mask with a filter as effective as an N95 mask at preventing COVID-19 infection?
What can I wear for a facemask if I get overheated easily due to my MS?

Do you have any tips to deal with the anxiety of COVID-19?
Can my MS increase the risks from COVID-19?
As we continue to navigate the pandemic, the Can Do Team is here to help! Reach out with your questions here!

---
Additional Resources
National MS Society: COVID-19 Vaccine Guidance for People Living with MS
Multiple Sclerosis Association of America: COVID-19 and MS Pathfinder
The Cleveland Clinic: Multiple Sclerosis & Vaccinations
MS Living Well: Multiple Sclerosis & Vaccines, including COVID-19
Emotional Resilience

This Emotional Resilience series offers practical tools, strategies, and insights to help you and your support partner develop problem-solving and resiliency skills.

---
The COVID-19 situation is rapidly changing so always consult your healthcare team for the most up-to-date information. Content on this website is for educational use only and should not be construed as medical advice. Can Do MS is not responsible for the accuracy or residual effects of the information provided, nor do we endorse any information on third-party hyperlinks or references to specific entities or strategies.
---
These programs are possible thanks to the generous support of: